20 Amazing Ways to Use Moringa Powder
Moringa powder is an amazing superfood but few people know how to use it
Written by Alex Reid
Posted October 31, 2018
---
Moringa is one of nature's most powerful superfoods, yet most people have never heard about it. Humans can eat almost all of the Moringa tree, including the leaves, flowers, pods, and even the seeds. However, Moringa powder is by far the most common type of way to eat this amazing plant.
But knowing how to use pure Moringa powder is challenging, which is why we're going to share 20 excellent recipes to get you started.
The reported benefits include everything from soothing joint pain to reducing stress, so don't delay!
Mix Moringa into Juice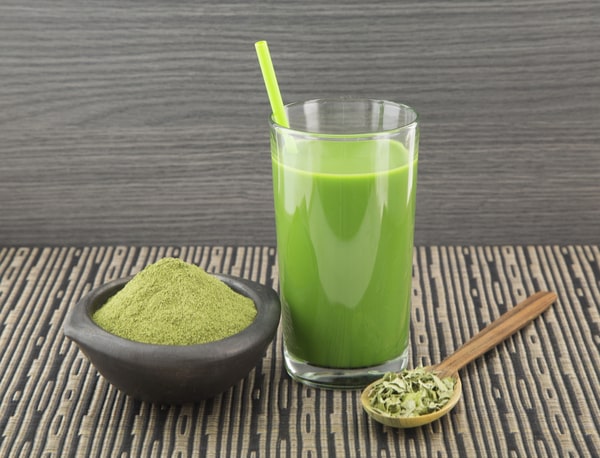 To some people, Moringa has a strong taste, and for this reason, one of the best ways to use it is in a juice. Smoothies or juices have a vivid taste, and the acidity from the fruit can help to compensate for the slightly bitter taste of the powder. Making this recipe is simple: Create your juice or smoothie, and then add half a teaspoon of Moringa powder for each glass of juice. If you wish to use more, keep in mind that you will start to notice the flavor.
Two excellent juices to combine with the powder are orange juice and mango smoothies. Both of these drinks have a strong level of acidity, which helps to overwhelm the taste buds and decrease the bitterness of the Moringa powder. Similarly, both have a vivid flavor that tends to be stronger than other fruits, which can help disguise anything else and make your morning juice delicious.
Lemon Tea and Moringa
You can easily pour a tablespoon of Moringa powder into any hot drink, but it tastes best when combined with lemon tea. Plus, you get the health benefits of lemon, so it's a double whammy. Lemon tea has a very strong flavor, at least for tea, and the acidity combined with the taste can completely hide the Moringa, making it a convenient way for you to ingest the powder every morning.
To make it as easy as possible, keep the tea bag or leaves in the water for as long as possible, which will help to make the drink stronger. Once you pour a teaspoon of the powder into the water, stir vigorously for 30 seconds to ensure that it's fully dissolved. It's advisable that you drink the tea quickly because over time the heat can cook the powder, reducing its health benefits.
Moringa Pancakes
If you'd prefer to eat your powder rather than drink it, there is a range of delicious and easy recipes you could create tonight. Here's a delicious recipe for pancakes:
½ tsp. Bambu Naturals Moringa Powder

1 banana

⅓ cup brown rice flour

1 cup oats

1½ cups non-dairy milk

3 medjool dates
Blend the oats into a thin flour first, and then you can add everything else and blend until it's thick and smooth. Add some oil into a pan over medium heat, then spoon the batter into the pan, half a cup at a time, and cook them for around two minutes per side, or until the sides begin to brown.
Moringa Salad
We certainly wouldn't recommend eating Moringa by itself as a salad, but when it's used as dressing, you won't even notice it. Sprinkle a little of the powder over a wet salad, and it will blend in, ensuring that you can enjoy the health benefits of this plant. It's critical that the salad is slightly wet because this helps the powder more easily dissolve into the other ingredients.
Whole Grain Moringa Bread
Bread is a fantastic and easy way to consume your Moringa powder. Not only is there very little taste of the plant, but you can also put a spread onto the slices to add more flavor and make it taste delicious. The ingredients are relatively common:
4 cups spelt flour

1 cup mixed raw seeds

3 medium carrots, finely shredded

2 cups warm water

5 tsp. yeast

2 tsp. salt

2 tbsp. Bambu Naturals Moringa Powder
To make the bread, you must first soften the yeast in warm water. Next, add all of the ingredients to a large mixing bowl and mix until a moist dough forms. Spread this dough into a loaf pan and put it on the middle rack of a cold oven before warming it up to 400 degrees Fahrenheit to cook for 45–50 minutes, or until the crust is lightly browned and a toothpick comes out cleanly.
Moringa, Cacao, and Matcha Macaroons
Who doesn't love macaroons? The only thing better than a macaroon is a Moringaroon, made with a burst of health to give you the nutrients and vitamins your body is craving. Making them isn't difficult. You'll need:
½ cup shredded coconut

1 tbsp. Bambu Naturals Moringa Powder

1 heaped tbsp. matcha

3 tbsp. sesame seeds

Optional cacao crunch: 2 tbsp. raw cacao nibs

A pinch of sea salt

5 tbsp. maple syrup

4 tbsp. coconut oil

2 tbsp. cashew butter

1 vanilla bean or 1 tsp. vanilla extract
To start, mix all the dry ingredients in a bowl, and then add in the wet ingredients slowly and mix well until the texture is even throughout. Finally, roll them into balls, and then you can freeze them for two hours and store in an airtight container in the refrigerator, where you can eat them!
Moringa Soup
Perhaps the easiest food to eat on this list, you can make Moringa soup very quickly. All you need is:
2 tbsp. Bambu Naturals Moringa Powder

4 cups water

1 tsp. olive oil

1 tsp. kosher salt

1 tsp. fennel seeds

¼ tsp. ground turmeric

Pinch cumin seeds

6 curry leaves

2 medium taro roots, peeled and cut into ½-inch pieces

1 green Thai chili, seeded

Kosher salt, to taste

1 lime, quartered, for serving

Freshly ground black pepper, for garnish
To make the soup, combine all of the ingredients except the lime and pepper in a saucepan and boil over medium-high heat. Once it's boiling, reduce to a simmer for 20 minutes, blend the soup, and strain before seasoning with lime and pepper.
Moringa Face Mask
A face mask is an ideal way to get the benefits of this powerful powder. To create it, you'll need:
½ tbsp. Bambu Naturals Moringa Powder

1 tsp. raw honey

1 tsp. rose water

½ tsp. lemon juice, freshly squeezed

2 drops tea tree oil

Small mixing bowl and spoon
Mix it all and apply it to your clean face, leaving it for 5–7 minutes to let the magic happen!
10 Dangerous Ingredients
Lurking inside Your Favorite Foods
Big Food makers pack all sorts of toxic additives and unpronouncable preservatives into grocery store staples to give them a longer shelf life. Unfortunately, these chemical shortcuts in food can lead to long-term health problems like diabetes, obesity, and heart disease.
Secure your free Clear Health Now membership today to learn more about "The 10 Most Dangerous Food Ingredients" you should avoid at the supermarket.
Honey and Moringa Scrub
To make this scrub, you'll need three ingredients: honey, brown sugar, and Moringa powder. Mix them all in a small bowl, including as much of each ingredient as you want to get the ideal consistency you prefer. Store it in an airtight jar and use a small amount to scrub your skin.
Eat it by the Spoonful
Getting the health benefits of Moringa powder doesn't have to be complicated. If you're in a rush and you want to ensure that you remember to take it, get half a teaspoon of powder and pour it into your mouth with a drink of water, and that's it. It might be crude, but it's a simple way to get the benefits of Moringa without wasting time.
Topical Treatment
If you find yourself with a small amount of inflammation, it's believed that Moringa has antibacterial and anti-inflammatory properties that can make it the ideal solution. To use it in this way, mix a few tablespoons of powder with a little water to create a thick paste, which you can apply to the skin where you're experiencing the inflammation.
Guacamole Spread
The only thing millennials love more than Netflix is guacamole. This tasty recipe is a very simple spread that you can make in less than five minutes. All you'll need is an avocado, some ripe tomatoes, cilantro, lime juice, 1 tsp. of Moringa powder, and some salt and pepper to taste. Mash it all together and enjoy on toast! Here's what you need:
3 avocados, peeled and pitted, pits set aside

⅓ cup finely chopped red onion

2 tbsp. finely chopped cilantro

Juice of 1 lime

¾ tsp. salt

½ tsp. Bambu Naturals Moringa Powder

Generous grinding of black pepper
Energy Smoothie
Do you ever feel exhausted in the morning? If you do, you need to give this smoothie a try; it's specifically developed to give you all the energy you need along with a huge health boost. You only need a few ingredients, too:
1 tsp. Bambu Naturals Moringa Powder

1 banana

1 cup fresh pineapple chunks

½ cup blueberries

1 orange, peeled

1 cup filtered water or coconut water
To create the smoothie, all you need to do is pour the ingredients into a high-quality blender and put it on high power for 30 seconds or until it reaches your desired consistency. If you'd like, you can add a few extra ingredients like spinach for the extra health kick.
Hair Conditioner and Paste
Moringa has high levels of vitamin A, which some believe can help strengthen your hair and make it grow faster. To use it efficiently on your scalp and hair roots, you should mix a few tablespoons of the powder with a little water to create a fine, not overly thick, paste, which you can massage into your hair and scalp and leave for half an hour before washing out in the shower.
Sprinkled onto Pasta Sauce
One of the easiest ways to eat Moringa powder without noticing it is to use it as a garnish on pasta sauce. This tactic is particularly tasty on Bolognese due to the deep meat flavors.
Moringa in Yogurt
Many of us dash out of the door every morning without breakfast, choosing to grab a banana and maybe a yogurt from the fridge on the way to the car. Life is busy, and if you're anything like most people, you don't have time to make a smoothie or mix up a recipe for pancakes.
Instead, why not sprinkle half a teaspoon of Moringa powder into your yogurt? Not only is this easy, but it's also a great way to get it into your body first thing in the morning.
Avocado and Moringa Face Mask
If you want to try out another face mask that comes with all of the healing powers of Moringa, avocado, honey, and lemon juice, you'll need:
½ tbsp. Bambu Naturals Moringa Powder

½ ripe avocado

1 tbsp. honey

½ tsp. lemon juice

1 tsp. hot water
Making the face mask is easy — you simply need to mix all the ingredients in a bowl until you form a consistent thickness, and then apply it to your face and body, leaving it for 10 to 15 minutes before washing off.
Morning Facial Wash
If you like to wash your face every morning, you'll love this idea. Moringa gives you many of the vitamins and minerals your body needs, and when combined with mints, honey, and water, you can create a beautiful facial wash with antibacterial properties. All you'll need is:
Warm water

2 tbsp. Bambu Naturals Moringa Powder

1 tbsp. mint powder

1 tbsp. honey
Mix all of the ingredients in a small bowl and include as much warm water as you want to get the right consistency for yourself. This facial wash can be used in the morning or night, but mint tends to be invigorating, and therefore most people will prefer to use it after waking up to give themselves more energy.
Lip Balm
Keeping your lips soft and invigorated is critical to prevent them from chapping and bleeding. To create a lip balm, you'll need to mix 1 tablespoon of coconut oil, beeswax, and shea butter with 1 teaspoon of Moringa powder. When mixed, you can melt it in a small bowl over low heat and then pour into a small container to cool and solidify.
Body Butter
Moisturizing and healing your skin is critical. When you're constantly hydrated and keep your skin in a good condition, you ensure that it can regenerate and soften after damage. To create a body butter, you'll need:
¾ cup of raw shea butter

2 tbsp. Bambu Naturals Moringa Powder

1 tsp. aloe vera gel

½ tsp. vitamin E oil

15 drops of any of your favorite essential oils
To begin, you'll want to melt the shea butter over a low temperature and then let it cool a little before stirring in the Moringa, aloe vera, and vitamin E. Once the mixture has cooled further and has become partially solidified, you can whip it into a fluffy cream using a hand mixer. Finally, add your essential oils, and use the butter all over your body.
Enjoy!
And if you prefer to watch or share any of these 20 amazing ways to use Moringa in video form,do that right here:
To your health,
Alex Reid
President, Longevity Insider HQ